Olympos
** Thessaloniki is the first city to climb to the Olympos Mountains.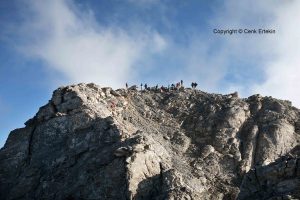 ** There are plenty of alternatives to reach Thessaloniki from Istanbul. Every day from Istanbul, Varan, Ulusoy and Metro bus companies organize to Thessaloniki.
** The price between Istanbul and Thessaloniki is 145 TL.
Metro Europa Phone: 0212 658 10 50-51-53
** 10 hours by bus from Istanbul to Thessaloniki. 1.5 hours by plane.
The bus arrives at the Ipsala border gate in 4 hours.
** After two hours of customs processing, the bus arrives at Komotini and Iskeche, and after 5 hours the bus arrives in Thessaloniki.
** Thessaloniki is a beautiful and historic coastal city. The beach is very similar to İzmir Kordon.
** Accommodation in Thessaloniki ranges from 50-70 Euro for the average hotel. Close to the seaside is quite expensive.
** Last stop of the bus company in Thessaloniki Vardari Irinis Street. From there it is possible to reach the "Macedonia Intercity Bus Terminal" by a taxi trip which costs 5 Euro.
---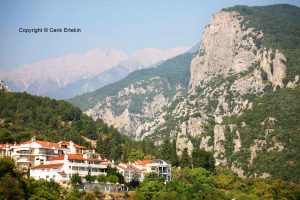 Litohoro Village
** From the Macedonia Terminal, take the bus to Litohoro, the last town on the mountain of Olympos. The bus reaches Litohoro via Katerini.
** 1.5 hours from Selanik-Litohoro and 8 Euros for bus.
** Litohoro is a lovely Greek town with a coastline to the sea but closer to the center of Mount Olympos.
** Hotel prices in Litohoro are quite affordable. In an average hotel you can stay for 30 Euros including breakfast.
Hotel Mirto – Phone: 003023 235 208 13 98
www.litohoro.gr/users/hotelmirto.asp
** In Litohoro you can find Turkish dishes as well as the most delicious dishes of Greek cuisine. The average price is between 10 and 12 Euros.
---
Mount Olympos Climbing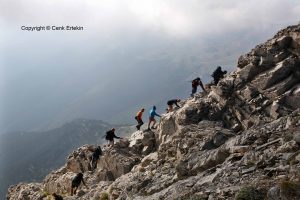 ** The starting point of Olympos Mountains is 1100 meters high Prionia region. It can be reached by taxi from Litohoro.
Taxi fare is 23 euros. 20 minutes from Lithohoro-Prionia.
Taxi Phone: 003023 693 267 1481
** Prionia is the starting point of the pathway to reach the 2100 meters mountain house (Refuege A). It is possible to find people of all ages who want to trek on a 1000 meters track.
** The walk from Prionia to a tree-covered forest takes about 3 hours, up to 2100 meters of 'Refuege A' Mountain House.
** Refuege A is a magnificent 90-bed chalet built on top of a large vineyard. Refuege A is closed after October. It is imperative that they take tents in winter. There is no problem moving food in the summer months. Three meals are served at the mountain house. Because of the heat, there is no need for a sleeping bag.
A daily fee of 12 euros for a mountain house.
Eating every meal about 6 euros.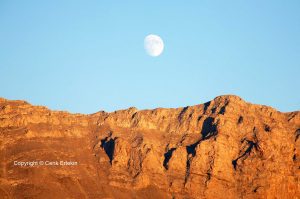 Refuege A Phone: 00 3023 5208 1899
** There are three important summits of Olympos Mountains. Mytikas (2918 meters), Scolio (2914 meters), Skala (2866 meters) 
** Arriving at around 6:00 am, the crews climb to the Skala peak before the 2100 meters mountain house. Scala is a very easy summit where you can just walk out without touching your hands.
The 2866 meters Skala peak can be reached in an average of 3 hours.
** It is imperative to go through the Scala summit to get to the main summit Mytikas. From the Scala peak, the Mytikas route can be seen easily.
** At the peak of Skala the summit of Mytikas is only 1 hour away. But this route is not a walking route. The rock structure is a 3+ rock climbing route similar to Aladağlar. Those who are not interested in rock climbing can experience uneasiness here.
** Every year a few people on this route lose their lives as a result of rock fall.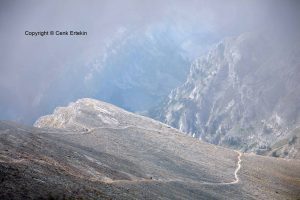 ** First, a 100-meter descent from Scala summit. Then there is a climb from a lane that can be counted upright. The last 30 meters of the mountain 3 + rock climbing.
** There is a metal flag on the top, a box with the summit book and an olympic flag.
** The descent is again from Mytikas to the summit of Skala and then to the Refuge A Mountain House in 2 hours.
After a little rest at the mountain house, it's 2 hours down to Prionia.
---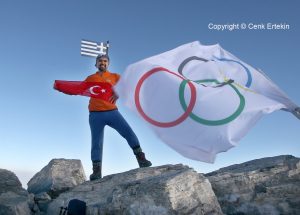 – Mount Olympos Travelling Program
Day 1 Tuesday
Departure from Istanbul to Thessaloniki (22.00 hrs)
Day 2 Wednesday
Arrival in Thessaloniki. (9.00 hours)
Arrival in the town of Litohoro. (at 12.00)
Move from Litohoro to Prionia, the starting point of the mountain. (1100 meters)
Climbing from Prionia to the Refuega A Mountain House (2100 meters)
Day 3 Thursday
Climbing from the mountain house to the peak of Scala. (2866 meters)
The highest mountain in Greece from the summit of Scala climbed Mytikas (2918 meters)
Mountain house landing.
Down to the town of Litohoro from the Refuege A Mountain House. 
Day 4 Friday
Move from Litohoro to Thessaloniki.
Move from Thessaloniki to Istanbul. (at 22.00)
Day 5 Saturday
Arrival to Istanbul
 ( Map of Olympos )