Kilimanjaro
-Climbing Mount Kilimanjaro, which we sponsored by United Colors of Benetton, constituted the most important part of our 22-day African tour.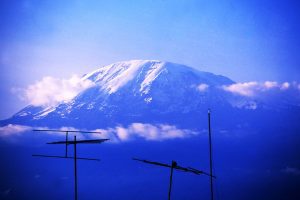 -The team consisting of five people, Cenk Ertekin, cameraman Aliço Güzelbeyoğlu, Dr. Tunç Tiryaki, Mimar Sinan University Mountaineering Club members Ziya Çobanoğlu and Cenk Sağman.
Transportation
-With a flight from Istanbul to Muscat and Bahrain, Tanzania's most advanced city, Dar Es Salaam, is reached. It took us 1.5 days to reach Tanzania on these terms.
-In the years when we made our climb, there was no airport at the near of Mount Kilimanjaro. However, the Tanzanian government has built an airport near Kilimanjaro Mountain because the region receives many tourists. For this reason, reaching the mountain is now very easy. It is possible to reach Kilimanjaro JRO Airport by direct flight from anywhere. The closest residential area to Kilimanjaro Mountain, Moshi Town is 40 km away and it takes about half an hour to reach the village.
---
 Moshi Village
-From Dar Es Salaam we went to Moshi Town to do the organization of the climbing of Kilimanjaro Mountain. Moshi Town near the border of Kenya, the closest settlement to Kilimanjaro with Arusha Village.
-A very important part of the village's income sources comes from Mount Kilimanjaro. Every year thousands of climbers and nature lovers flock to the region every year to climb the highest summit of the continent and make long walks in the area, and all of them travel from Moshi to find guides and carriers. The Tanzanian organizer Kennedy, whom we met in Dar Es Salaam, is an experienced guide who has organized the climbing of Kilimanjaro many times before. We have 2 mountain guides and 10 carriers and 450 dollars per person including all food and housing needs. We accept this price and spend the night in a hotel in Moshi, savoring traditional African cuisine and preparing for this exciting climb that will last for 5 days.
---
Kilimanjaro Mountain Information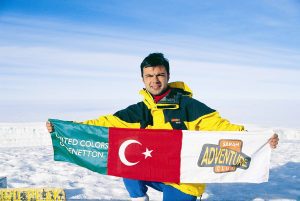 -Suitable climbing time intervals for Kilimanjaro Mountain are quite long. Equatorial climate conditions apply to the region. Apart from the April and May months, when monsoon rains are effective, climbing and trekking activities can be arranged at the Kilimanjaro Mountain any time of the year. Although rains continue in June and July, there is not enough rain to cancel the climb. Kilimanjaro is an extinct volcano. At his summit there is a crater of considerable size.
-Kilimanjaro is the highest mountain in Africa with a height of 5895 meters. So many climbers and adventurers flock to the area to climb this mountain.
Kilimanjaro Mountain is one of the Seven Summits projects, a prestigious mountaineering project. The mountain has three summits. Kibo (5895 mt), Mawenzi (5149 mt) and Shira (3962 mt). Kibo is the highest point of Kilimanjaro. (Also known as the Uhuru Peak) Kilimanjaro is the largest single mountain of the world's mass.
-The first climb was made by German Geolog Professor Hans Meyer and the famous Austrian climber Ludwig Purtscheller on October 6, 1889. Kilimanjaro National Park is located in Northern Tanzania and has an area of ​​753 square kilometers. Park has been on the Unesco World Heritage list since 1987.  Kilimanjaro National Park is visited by an average of 50 thousand people per year. Entrance to the park is $ 70 per person. What you will pay later is about how long you will stay in the park. In order to stay in bungalow camps built with a search of about 1000 meters, you have to pay separate amounts.
-The best way to enjoy just climbing without making money accounts is to be involved in a climbing organization. Prices for climbing programs offered by Tanzanian tour companies range from $ 1200 to $ 1,500. It is possible to find tour guides at cheaper prices by negotiating Moshi and Arusha Villages. Of course this is a bit of a risky choice. Sometimes a low flier can turn into a maze of climbing with very inexperienced guides. The temperature in the region is not at all disturbing. The lowest temperature you can see is 15 degrees at night. Daytime temperature values ​​can reach 30 degrees, but this never creates an uncomfortable and overwhelming environment. (These temperature values ​​do not apply to mountain highs) Unlike other mountains, the vegetation in Kilimanjaro stretches far higher. The vegetation cover, which is normally not seen above 2500 meters, can be seen even at 4000 meters in Kilimanjaro.
---
Kilimanjaro Climbing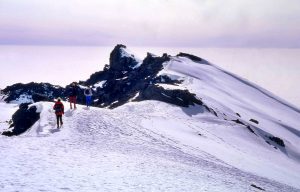 -Kilimanjaro is climbing the mountain from two routes. Machame route and our climb Mawenzi route. We have a reason to choose the Mawenzi route other than mountaineering. This route will provide us with the opportunity to photograph rainforests, savannahs, a mountain desert and finally the African Glaciers.
-First of all, we arrived at the entrance of Kilimanjaro National Park at 1800 meters. It's 42 miles from Moshi Village. Here we meet Joshua and his assistant Godlisten who will do our guiding during the climb and our carriers, and we got information about the climbing program.
-What Joshua says is how extraordinary the stages are. The first day is a rainforest, then a buffer zone full of savannahs, then a real mountain desert and a tough ridge covered by the snow of Kilimanjaro to the summit. On the second day we will reach Mandara Hut at a height of 2,700 meters. It is quite pleasant and a short 3-hour walk is set in the middle of the forest and we reach our campsite consisting of large bungalow houses.
-Under the muddy rain in the midst of the magnificent forests of Africa, we understand that the extraordinary effort we have shown to come here in Istanbul is not in vain. Evening meals have been carefully chosen as we did not expect. It is a factor that is riveting in the climbing process to be able to feed well. The only problem is the pain that each of our units has created in our collar the vaccinations we had the day before we left. It is not possible to enter Tanzania and many African countries without having the required vaccinations. Yellow fever, tetanus, malaria and hepatitis are the most important vaccines you need. However, the most dangerous of these diseases is mosquito-infected malaria.
-Every year in the African continent, one million people die without mercy. Even vaccination is not a way to prevent the disease. You should continue to use medication for 2 months after you leave Africa.In the morning, we are heading towards Horombo Camp at 3720 meters with British and Australians climbing together with our group.
-The route where the greens begin to decrease gradually and the savanna plants grow up is quite comfortable and the performance of our team is very high. We arrive at Horombo, another bungalow camp at 3720 meters, thinking that the hard tracks of Kilimanjaro have not yet begun. The environment in Horombo is affecting us all. Mountaineers and travelers from various parts of the world gather here. People here are very different from what we see in the city every day. At one corner Kazakhstan stepleri, at another corner Alaska's cold, the dining room tells the memories of Nepal.
-Kilimanjaro is the highest mountain in the continent, so mountaineering education and a mountain where even the ones who do not have high altitude experience want to climb. For this reason, the biggest problems experienced in the exits are height problems. The guides are investing one night in Horombo Camp, who are not mountain experters. Our guide Joshua tells us that our performance is good and that we will be able to go to the Kibo camp tomorrow at 4703 meters without staying here. We are a team member of Dr. Tunç Tiryaki consulting and decide to go up.
-There is a mountain desert we need to cross over the next day. Height begins to manifest itself after 4500 metres have exited. We arrive at Kibo, the last camp at 4703 meters, in 4 hours after a major problem. At this point, temperature nights can be quite low. This is an unusual situation for the African continent. Because the last water source is in Horombo camp, we have to carry lots of water here. At midnight we will wake up at 1.00 am and we will try the highest summit of the 5895 meter African continent with our team of 5 and our guides Joshua and Godlisten.
-We were particularly lucky with the guides. Joshua's condition is quite high, very knowledgeable and a discreet guide. Godlesten is a 26-year-old childlike attitude. He's in love with a 16-year-old peasant girl. But he is fighting the difficulties that the girl's family has on the way to marriage. She says it's the name of the thing that helps her most. God listen.
-We could not sleep at night because of the altitude. At midnight at midnight, Joshua wakes us up and faces a big problem we are not accustomed to during the climb.
Tanzanians do not give breakfast before the last climb. It will be very difficult to get an altitude of only about 1200 meters with just tea and some biscuits. The first place planned to be reached on the route is Gillman Point at 5,685 meters. We reach Gillman's Point in 4.5 hours after a very long and tortuous lane climb. Everyone's in general good. Kilimanjaro's profits, which are the subject of films, now have books. At the end of the long tail, the highest point of the black sea awaits its guests who want to climb it. We reach 5800 meters and the summit is only 100 meters away. We climb the last meters without any problems and reach Africa's highest point, Uhuru Peak (Freedom Summit) at 5895 meters.
-In the summit, there are British mountaineers and a French team who were found in Everest 1 month ago. It's inconvenient to stay in a mountain over 5,000 meters for more than 20 minutes. As the headaches of the Chancellors have increased, we immediately pass on the incitement. At the end of a very tiring and exhausting descent, we come to the Kibo camp and rest for 1 hour and then we go to the Horombo camp.
We are very tired but celebrating our climbing in a very pleasant way.
---
    Tanzania Information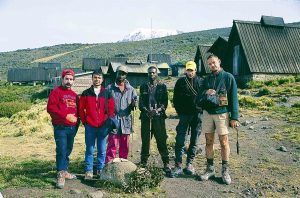 -Tanzania, a country that is self-sufficient but unable to recover from poverty, is a united republic ruled by Socialism. The Swahili language is spoken in the country, resulting in a mixture of English and many languages.
-In 1974, the capital, Dar Es Salaam, moved to Dodoma inland. The territory contains around 120 ethnic black groups. Apart from that, the British constitute another part of the population of Asians from various parts of the Arabs, India and Pakistan. From the mid-19th century Europeans' missionary work and exploration trips in Eastern Africa soon led to the colonization of the region known as Tanganika. In 1891 the region was given German protection under contracts. However, during the First World War, the British occupied the whole of East Africa. In 1964, the governments of Tanganika and Zanzibar Island united and proclaimed the United Republic of Tanzania.