About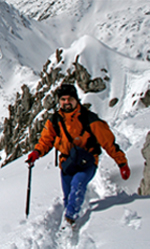 He was born in Istanbul in 1972. He completed his primary, secondary and high school education in Istanbul. In 1992, he started his career in the press with the travel and expedition magazine, Photo Globe. In 1994, he was admitted to the Photography Department of the Faculty of Fine Arts at Mimar Sinan University. In the same year, he started working in the editorial department of Sabah Newspaper.
In the fall of 1994, he became a member of Mimar Sinan University Mountaineering Club and started mountaineering sports, and in the following years he served as the Technical Committee Chairman of this club for two years. During this period, he made and organized mainly winter climbs in important mountains in Turkey. He soloed Erciyes, Medetsiz, Kaldı and Alaca.
In 1997, Sabah Adventure Club sponsored a top solo climb to the 5671-meter Demavend Mountain, Iran's highest summit. However, due to intense blizzard, he returned from the last meters of the mountain. A year later, he reached the Demavend summit again.
In 1998, he traveled to Kyrgyzstan, Kazakhstan and Uzbekistan and photographed them. He joined the 7134-meter Peak Lenin summit climb in Kyrgyzstan. He climbed the Peak Petrowski Summit at 4836 meters in the Pamir Mountains solo.
In 1999, he began working as a correspondent at Sabah Newspaper News Center. In the same year, the United Colors of Benetton sponsored an expedition to Africa. First, he climbed Kilimanjaro within the borders of Tanzania, which is the highest summit of the continent. He then attended a Safari, which lasted for 1 week in the Serengeti region, and he photographed the wild nature of Africa. He also climbed Mount Kenya's 4896-foot Lenana Summit, which no Turkish climbers climbed before.
He then produced an African documentary which was aired on TV Station ATV.
In 2002 he climbed Elbrus, the highest mountain of Europe, which is within the borders of Russia.
After that, he focused more on his overseas climbing activities. He climbed French Alps, Kazbek, Julian Alps, Dinaric Alps, the Pyrenees and the Bavarian Alps.
The photographs he took and the articles he created on these trips and climbs were published in various magazines and newspapers.
International Climbs
Golem Korab, Macedonia, December 2016
Dinaric Alps, Bobotov, Montenegro, September 2012 (Solo climbing)
Bavarian Alps Alpspitze, Germany, August 2010 (Solo climbing)
Pyrenees Pico de Aneto, Spain, August 2009 (Solo climbing)
Olympos Mountain Mytikas, Greece, September 2008 (Solo climb)
Julian Alps Visevnik, Slovenia, March 2008
Mont Blanc, France, August 2006 (Solo climbing)
Dome du Gouter, France, August 2006 (Solo climbing)
Kazbek, Georgia, September 2005
Mont Blanc France, November 2003
Elbrus, Russia, September 2002
Mount Kenya Lenena, Kenya, July 1999
Kilimanjaro, Tanzania, July 1999
Demavend, Iran, September 1998 (Solo climbing)
Pamir Mountains Peak Petrowski, Kyrgyzstan, August 1998 (Solo climbing)
Pamir Mountains Peak Lenin, Kyrgyzstan, August 1998
Demavend, Iran, October 1997 (Solo climbing)
Domestic Climbs
Uludağ, Bursa, Mayıs 2017 (Solo climbing)
Aladağlar Alaca, Niğde, November 2016
Aladağlar Karasay, Niğde, October 2015
Ağrı Mountain, Dogubayazit, July 2012
Ağrı Mountain, Dogubayazit, January 2007
Aladağlar Eznevit, Niğde, November 2005
Ağrı Mountain, August 2004 (Solo climbing)
Ağrı Mountain, Dogubayazit, February 2002
Aladağlar Emler, Niğde, November 2001
Aladağlar Eznevit, Niğde, April 2001
Uludağ, Bursa, February 2001
Ağrı Mountain, Dogubayazit, October 2000
Erciyes, Kayseri, May 2000
Ağrı Mountain, Dogubayazit, October 1999
Aladağlar Eznevit, Niğde, September 1999
Bolkarlar Medetsiz, Ulukışla, Niğde, June 1998 (Solo climbing)
Aladağlar Kaldı, Niğde, February 1997
Beydağları Bakırtepe, Antalya, February 1998
Aladağlar Kaldı, Niğde, February 1997 (Solo climbing)
Aladağlar Alaca, Niğde, November 1997 (Solo climbing)
Kaçkar Mountains, Rize, August 1997
Verçenik, Rize, August 1997
Aladağlar Demirkazık, Niğde, June 1997
Aladağlar Eznevit, Niğde, May 1997
Kaçkar Mountains, Rize, March 1997
Kızlar Sivrisi, Antalya, February 1997
Beydağları Bakırtepe, Antalya, February 1997
Uludağ, Bursa, December 1996
Aladağlar Bozkaya, Niğde, October 1996
Hasan Mountain, Aksaray, September 1996
Kaçkar Mountains, Rize, August 1996
Aladağlar Alaca, Niğde, August 1996 (Solo climbing)
Erciyes, Kayseri, June 1996
Beydağları Bakırtepe, Antalya, February 1996
Uludağ, Bursa, December 1996
Dedegöl Mountains Anamas, Isparta, May 1995